Riding a horse over fences has been part of the training of horse and rider since the art of riding began to develop. In the 4th Century BC Xenophon provided instructions on how to jump ditches, banks and hedges. Cavalry charges in the 17th, 18th and 19th Centuries would not have been possible without the ability to jump across country. In the 20th Century, the expanding population and industrialisation has reduced the amount of space in which riding is possible. In many places in the world it is no longer possible to ride safely across county negotiating natural fences. There is also a growing and general increase in the desire to compete against others and ride for sport. This situation has resulted in the growing popularity of show jumping.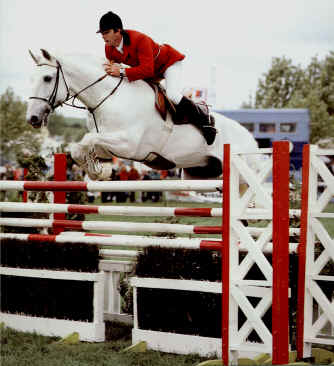 The horse required for show jumping must move with balance, obeys instantly in any situation and can produce enough jumping ability, speed and agility to satisfy the high demands of today.
Every thing a dressage rider requires from a horse must also be demanded from a successful show jumper. The horse must be obedient, the horse must be flexible and in balance, the horses back must be round and carry the rider's weight efficiently. The horse must be able to change lead leg in canter instantly on the rider's commands. The rider must have the ability to shorten and lengthen the horses stride at will. In fact, the show jumping arena is merely a dressage test with obstacles in it.
Look at an international level show-jumper coming into the arena. The horse is round and on the bit with its quarters engaged - ready to release the energy necessary to negotiate the jumps.
Success in the higher levels of jumping must of course have a sound foundation in the lower levels. A rider will not make the top in show jumping if he does not have a secure dressage seat and a sound basic knowledge of working the horse on the flat. The art of show jumping is riding the horse between fences so that the horse is fully prepared to jump the jump in balance and be instantly ready to negotiate the next obstacle.
This is where we can help. We can help you prepare and maintain your horse's flat work for his show jumping career. With our email support, we can discuss your thoughts and problems with the show jumper in mind. A truly unique and personal service for the show jumper.