Home
Schooling
Classical dressage
Modern dressage
Horse trials
Show jumping
Glossary
Links
Your trainers will be Roger and Eleanor Taylor.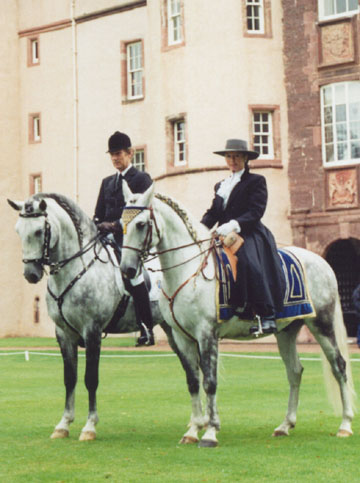 Between Roger and Eleanor you will be getting the benefit of over 50 years experience with sport horses and over 60 years of running their own businesses in the equine industry. The different disciplines both Roger and Eleanor have been involved with are as diverse as running a pony trekking business in the highlands of Scotland to professional riding in Munich for the Bavarian warmblood youngstock auctions.

Their specialty has always been dressage and training horses for all disciplines with balance, subtleness and obedience as the starting point for any successful horse and rider combination. Only in recent years has this way of riding been recognised by the general equine public and has been labelled Classical.

Both Eleanor and Roger have studied the works of the classical masters and apply this knowledge in their everyday training.

Both have ridden and studied in Germany, Spain and Portugal.

Eleanor and her horse Vivaldi (seen pictured above and on our logo at the top of the page) have featured in several books including The Classical Rider by Sylvia Loch and Inside Your Horses Mind by Lesley Skipper. Vivaldi was bought along with two other Lusitanos on a buying trip to Portugal

Numerous national and international trainers have visited their centre in Scotland. These include Ian Stark (international event rider, Olympic Champion, trainer and author - with Jenny Stark - of The Stark Approach), Sylvia Loch (equestrian author and trainer, whose works include The Classical Seat, The Royal Horse of Europe, The Classical Rider and the magnificently researched and authoritative Dressage - The Art of Classical Riding), the late Pegotty Henriques (international dressage judge [FEI judge], trainer, journalist, examiner and author of Balanced Riding - A way to find the correct seat, Dressage For The Young Rider and numerous contributions to other publications), Dane Rawlings (UK national rider and trainer), Nick Williams (FEI judge), Jane Breden (international and Olympic rider and trainer), Paul Belasik (rider, trainer and thought-provoking equestrian author of Riding Towards the Light, Dressage Techniques and Songs of Horses), Steven Clark (FEI judge, trainer and rider), Eric Theilgard (rider and trainer), Kalman DeJuranak (trainer and a director of the Verden Hanovarian Warmblood Breed Society), Lady Townley FBHS ('Inner Game' practitioner and author of The Natural Rider and The Natural Horse) and Manuel Sabino Nunes Duarte (ex-bullfighter and now professional rider and trainer of working Lusitano horses in the true classical style).

The philosophy and ethos of training both horse and rider at the Dressage Centre has always been that correct basic training for any equine discipline must include correct flat work, must be interesting and stimulating and most of all, must be fun. This philosophy will be in the forefront of World Wide Classical and Competition Dressage.