We can provide training at your yard, school or club in the UK or Worldwide.

One of the biggest problems for an organizer when trying to select a new trainer for teaching sessions or clinics is that they are usually of an unknown quantity. You invite him or her because you have read in a magazine that they have been winning at their particular discipline or by recommendation.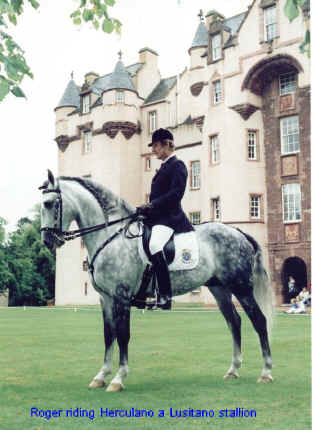 The only problem with this method of selecting the clinician is that you really don't know his or her style or even if they are able to share their expertise. A brilliant and successful competitor does not mean necessarily that they can teach. Will he or she be too advanced / novice for your riders. Does he only like teaching people who own a particular breed of horse, does he only like teaching people who are competing etc., etc.
If you decide to invite Roger to give your clinic you will be able to refer to his lessons on World Wide Web Classical Dressage and if you like the way he teaches, passes on his knowledge and experience, well at least you will have a better idea as to what you're getting. You will also have the added benefit of continuing the training after the clinic has finished via the Internet.
With the increasing trend for international airfares to come down in price, it is now more affordable and feasible to bring a trainer from abroad to your own yard for teaching clinics and demonstrations.
What you get for your money
Will teach every standard of riding.
Will teach children as well as adults.
Will ride your horse if you are having problems.
Will ride your horse with a roving microphone if amplification available.
Does not mind what breed, age or standard of horse is on the course.
(A client was winning Prix St George on a highland pony trained by Roger.)
Will never tell you to do something that he:
(a) can't do himself, and;
(b) cannot explain why he has asked you to do it.
Will teach a group or individuals.
Will be sensitive to the clients needs, not the audience's applause.
Will teach with the clientÌs aspirations and goals in mind.
Will teach for the purist as well as the competitor.
Will not continually watch the clock, unless instructed by the organizer.
Will try and make the clinic enjoyable and fun.
Demonstrations and lectures.
Roger will gladly do evening demonstrations or lectures at your request.

The subject of the demos or lectures will be by arrangement with you.
Duration and charges
Individual lessons. To teach or ride - 45 minute session £35.00 (Approximately $65.00)

Will teach a minimum of five sessions per day and a maximum of eight sessions per day. The number of days by arrangement.

Demonstration and / or lecture £100.00. (Aproximately $186.00)

Travel and accommodation expenses are not included in the above prices.